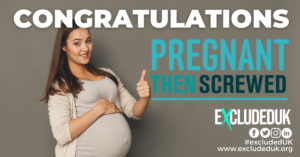 ExcludedUK is thrilled to hear that in the case Pregnant then Screwed took to the Court of Appeal, after losing their Judicial Review case, it has been ruled that the Self-Employment Income Support Scheme did discriminate against new mothers.
While technically the case was not won, on the grounds that the Government had to implement the scheme under immense pressure, the ruling clearly states that pregnant women were discriminated against and this is therefore a significant win in the ongoing fight for all those who were excluded from the schemes, and indeed other matters where pregnant women and new mothers have been discriminated against.
Since ExcludedUK formed in response to the disparities that came to light with the Government Covid-19 financial support schemes, the resulting discrimination towards new parents has been a key part of our campaign. ExcludedUK has always firmly believed that the way in which SEISS was assessed for the self-employed who were affected by a period of maternity leave in the three year calculation period clearly discriminated against pregnant women and new parents.
Whilst we have repeatedly heard from the Government that the schemes were implemented at speed, this judgment also now puts pressure on the Government to do thorough equality impact assessments on any such future scheme, something we have been highlighting during the course of our campaign.
We campaigned alongside Pregnant then Screwed and other campaign groups on this issue, as well as how pregnant women and new parents were affected by gaps across both support schemes and we met with Government ministers, to no avail thus far. But this judgment undeniably states that the scheme was deeply flawed and ExcludedUK will be taking this up in our continued campaign to achieve justice for all those groups who were discriminated against in being entirely or largely excluded from the schemes. Policy makers must now seriously consider this decision and such discrimination in the implementation of any future schemes must never happen again.
Contact:
Kate Robertson– Director of Production and Operations
Facebook: https://www.facebook.com/groups/excludeduk/
Twitter: @ExcludedUK